Now is the time for upgraders to make their move in the Melbourne market.
This is according to RiskWise Property Research CEO Doron Peleg, who says as the housing market has cooled, Melbourne now presents good medium and long-term investment opportunities.
"It has placed upgraders in a good position. They can achieve bigger properties in better locations for a relatively reasonable price, and more importantly, they need a lower amount in order to upgrade, knowing they will enjoy long-term capital growth," Mr Peleg said.

"However, to minimise the risk they need to sell before they buy to ensure they get the right price particularly if they only own a unit."
Mr Peleg said there were two major types of upgraders — those living in a house and moving to a bigger one or a better location, and those living in units looking to buy a house or a larger unit that is suitable for families.
The median price for a unit in Melbourne is $553,000 and a house is $836,000.
As many areas have a high supply of units these carry a higher level of risk, meaning buyers should look to houses as safer investments.
He said CoreLogic figures showed the housing market had cooled with dwelling price growth going from 10.6 per cent in the 12 months to 31 May, 2017, to 2.2 per cent in the 12 months to 31 May, 2018.
The auction clearance rates decreased from 72.9 per cent in July 2017 to 58.2 per cent to July 2018.
However, rather than being cause for alarm, this should be seen as an opportunity by upgraders.
"As demographer Bernard Salt has predicted the population of Melbourne will pass five million by 2021 and eight million by 2050, and there is an obvious undersupply of properties suitable for families, it's clear properties prices will remain steady and offer good long-term capital gains if upgraders act now," he said.
Further, there is an ongoing undersupply of houses, particularly in the middle-ring and in areas with good accessibility to the CBD.
That has been a major driver to the increased property prices in, and is projected to be a major factor for price growth in the medium and long term.
"In addition, the employment market remains steady and this will trigger stronger migration, higher wage growth and stronger demand for housing.

Unemployment has significantly improved from 6.5 per cent in April 2017 to 5.1 per cent in May 2018."
Good examples of areas that experience strong demand without the $1 million price tag and are projected to deliver strong capital growth are as follows:
WHAT CAN YOU DO TO STAY AHEAD?
As signs point to softer growth conditions for Australian property over the coming months, independent professional advice and careful consideration will be as important as ever in navigating Australia's varied market conditions.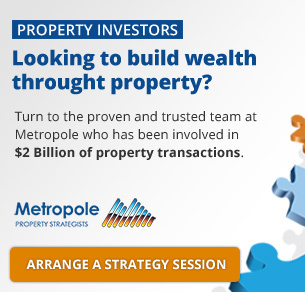 If you're looking for independent advice, no one can help you quite like the independent property investment strategists at 
Metropole
.
Remember the multi award winning team of property investment strategists at Metropole have no properties to sell, so their advice is unbiased.
Whether you are a beginner or a seasoned property investor, we would love to help you formulate an investment strategy or do a review of your existing portfolio, and help you take your property investment to the next level.
Please click here to organise a time for a chat. Or call us on 1300 20 30 30.
When you attend our offices in Melbourne, Sydney or Brisbane you will receive a free copy of my latest 2 x DVD program Building Wealth through Property Investment in the new Economy valued at $49.