I'm a little worried about the Melbourne property market.
Now that's probably not something you expected to hear from me, especially since I've added 4 Melbourne investment properties to my portfolio in the last two months alone, but the truth is….I am a little worried.
Now…I've seen this before – the signs of overbuilding – the usual exuberance from property developers.
You just have to open Saturday's paper to see the huge number of new development projects coming out of the ground – and there are even more on the drawing board.
That's because over the last few years Melbourne's property market has been driven by strong population growth.
In fact we're close to adding the equivalent of one M.C.G.'s worth of people to population each year!
At this rate at population will increase by close to 10% over the next five years.
Add to this historic low interest rates and strong investment in from overseas buyers and it has fuelled a strong property market that has encouraged a tremendous round of new developments.
In fact too many developments and huge ones at that – this is what worries me.
The push is being encouraged by Planning Minister Matthew Guy, who approves or rejects projects of more than 25,000 square metres and who says he wants to Manhattanise Melbourne which is being transformed into a city of giants, with more than 20 new skyscrapers taller than 200 metres being constructed or planned.
Urban Melbourne, which tracks developments, recently counted 23 towers above 200 metres being proposed or under construction.
It cited a "gobsmacking" figure:
Since the Rialto became the city's first 200-metre-plus tower in 1986, only six more 200-metre-plus towers were built in the next 28 years.
But look what's happened this property cycle…
The Age lists the top 10 new giants in order of height showing Southbank is the favoured location, with six of the projects in the precinct, which is home to Eureka Tower and Prime Pearl.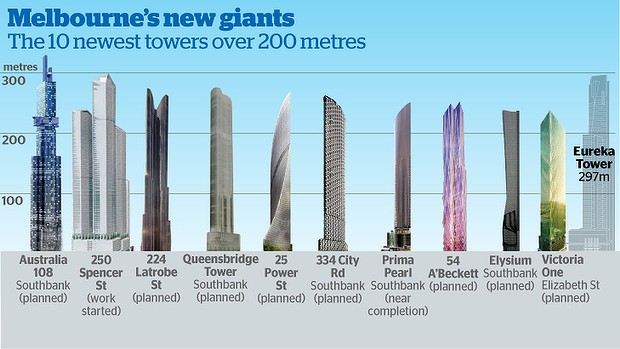 Source: The Age.
So why am I worried?
One factor is the oversupply of properties that is looming, and that's why I'd be very very careful to avoid buying properties in or close to the CBD.
The already significant oversupply has meant minimal capital growth and rental growth over the last 10 years for properties in and surrounding the CBD including areas such as Docklands and Southbank.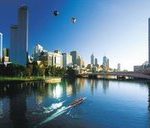 Another issue is the standard of some of these buildings, with reports of many small apartments with windows that are not openable, nor having particularly good views.
And at street level, we will have a situation where there is insufficient open space, wind tunnels and overshadowing effects.
The inner suburbs of Melbourne are also facing a shortage of public parks and sporting grounds…
The council has estimated that by 2031 the municipality will be facing a shortfall of 12 ovals and 12 soccer pitches, as its residential population hurtles towards 200,000 people…
Melbourne University professor of urban planning Brendan Gleeson said in the past 10 to 20 years the state government had failed to properly plan for public infrastructure in Melbourne's inner, middle and outer suburbs.
Does this mean we should avoid the Melbourne property market?
Well first of all there is not one Melbourne property market – there are different markets based on geography, price points and type of property.
And as I explained I have not been avoiding investing in the Melbourne property market, I've been investing in selected segments of the Melbourne property market. In particular old homes in affluent, gentrifying, middle ring suburbs. Ones which I intend to pull down and develop into townhouse complexes.

On each of these properties there will eventually be two (not 200) modern townhouses aimed at an affluent tenant demographic.
This is a very different market to the inner-city high-rise apartment market.
Of course property development doesn't suit everybody, so the other type of investment property would suggest you consider in Melbourne is buying an established townhouse or apartment, one with the level of scarcity and a good floor plan, in one of the middle ring suburbs that is not going to be affected by oversupply. And particularly one to which you can add value through renovations.
I guess the theme here is that during the next few years when capital growth may be lower than over the last few years, buying the type of property that is in strong demand but short supply and adding value, thereby manufacturing some capital growth, is likely to form a sound investment strategy.
Save